Home »
Marble Altar for a Church
On 20th February, we answered a call from John Smith, he wants us make a design for his marble altar. We make the drawing for him after we know his idea for the altar, he is very satisfied with the new design we made, and ordered it very soon.
John Smith employed in the Church of the American. He wanted to replace the old altar in his church. He showed us the photos of the church and told us his idea for new marble altar.
We communicated about his idea for the new marble altar, actually, we made many similar design already. Owing to we are very professional on church marble items. We make the drawing very soon, and he is very satisfied with our design.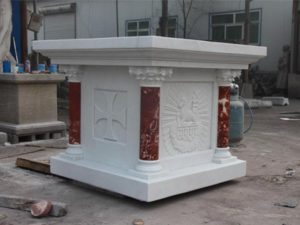 Besides, we have many choice for stone material, according to John Smith's requests, we recommend Grade A white marble as main material and the Red marble as the columns, the final effect is perfect.
Our customer has received the marble altar already, he was very satisfied with it. He said all the people in the church love it. He is considering to order more in near future.
If you want to know more church sculpture design.