High Quality Marble Floating Ball Fountain for Sale MOKK-88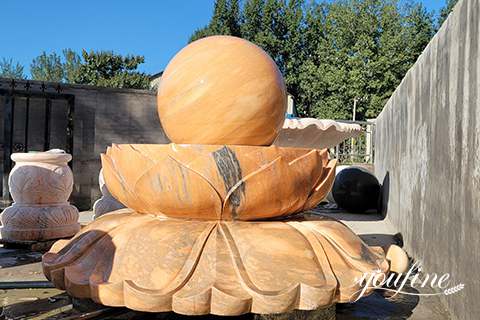 The design of this marble floating ball fountain is very unique. Its base is not as ordinary as the base we usually see, but like a lotus flower, showing a unique Chinese style.
Item No: MOKK-88
Size: Customized Size
Material: Natural Marble
About Us: 39 Years Factory
Insurance: Cover all the risk
Package: Strong Wooden Case
Advantage: Factory Direct; Door to Door Delivery
Color: Pure white&red marble or customized
Technique: Art-quality Hand Carved, Polished
Payment: T/T, Credit, Western Union, Money gram, PayPal
Fountain Introduction:
Our marble floating ball fountain uses beautiful sunset red as raw material, showing a unique beauty. His base is different from previous designs but looks like a very beautiful lotus flower. The lotus holds the ball. When the ball starts to rotate under the force of water, it would produce a very beautiful scenery, so a water ball fountain like this would be a good choice for your space decoration, bringing you more It could not only purify the air but also play a beautiful decorative role.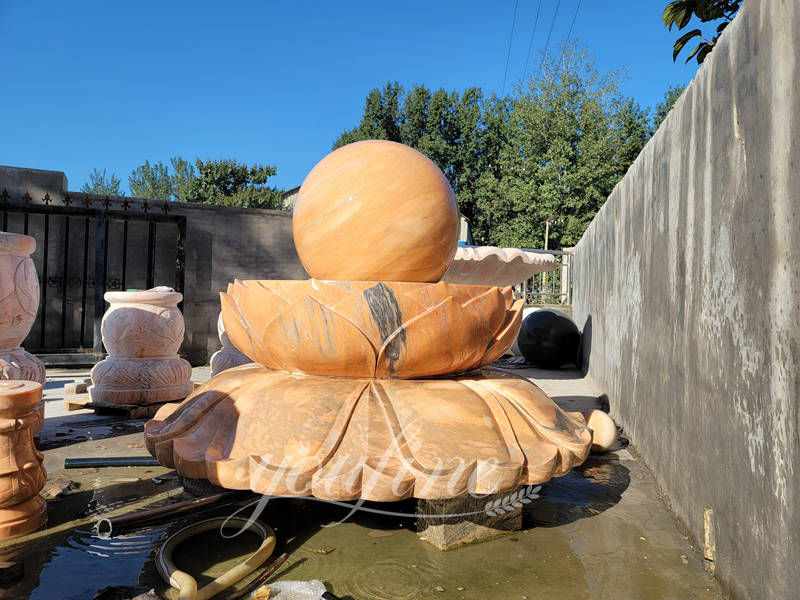 Feng Shui Symbolizes:
Water represents wealth in China, so when the water ball keeps spinning on the water, it could symbolize the continuous flow of wealth. When the water ball is visited at the family villa, it could bring good luck to people. Placing it in a public square symbolizes good weather and good luck for everyone who sees it. Although this is just a fantasy given by people, a floating ball fountain with a beautiful meaning like this would be a good choice for outdoor decoration.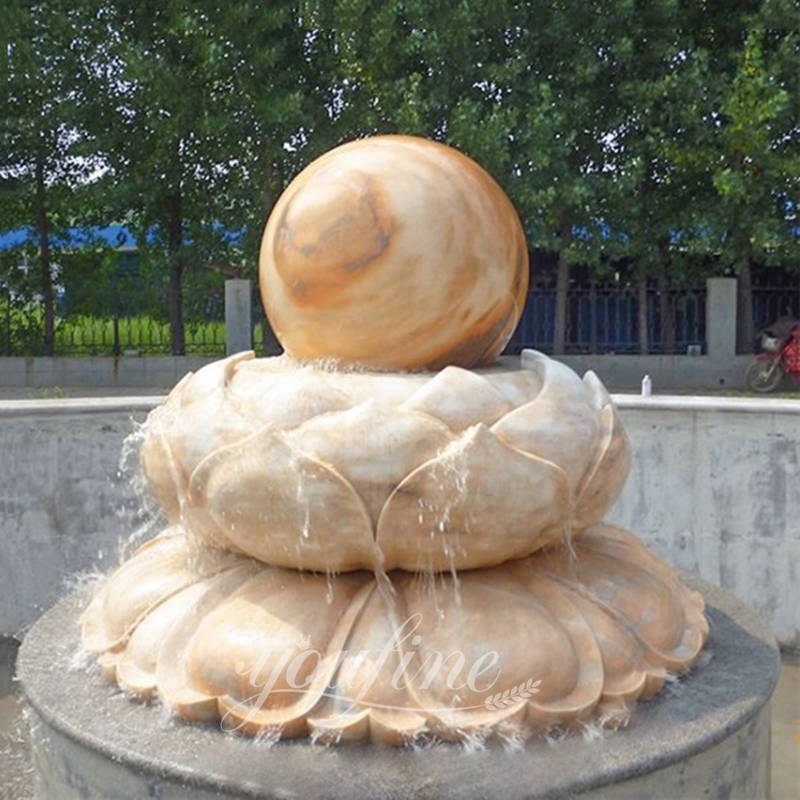 Custom Design Services:
Our fountains are customizable. You could customize the size of the statue's fountain and the material of the fountain. Our customer once customized the material of the base of the pot fountain. He divided the base and the ball above it into sunset red and black, which also has a different charm. Of course, we also have customers who have customized other styles and sizes, whether large or small or other colors, which are very beautiful.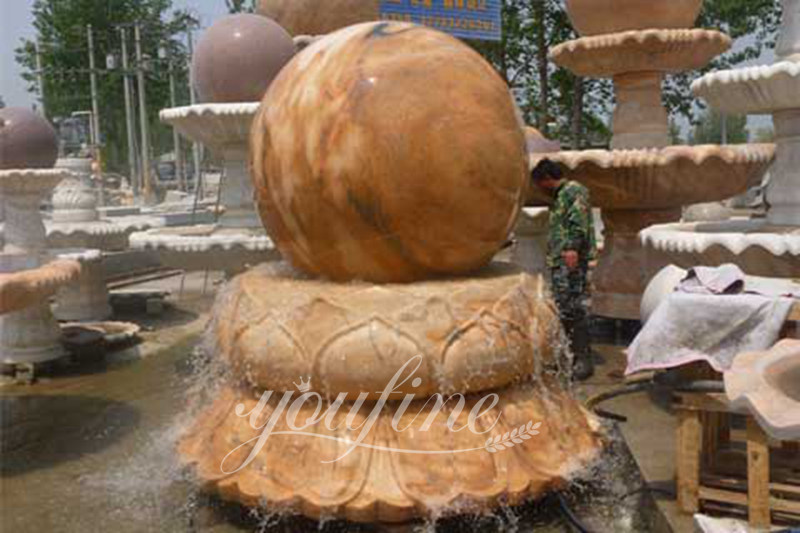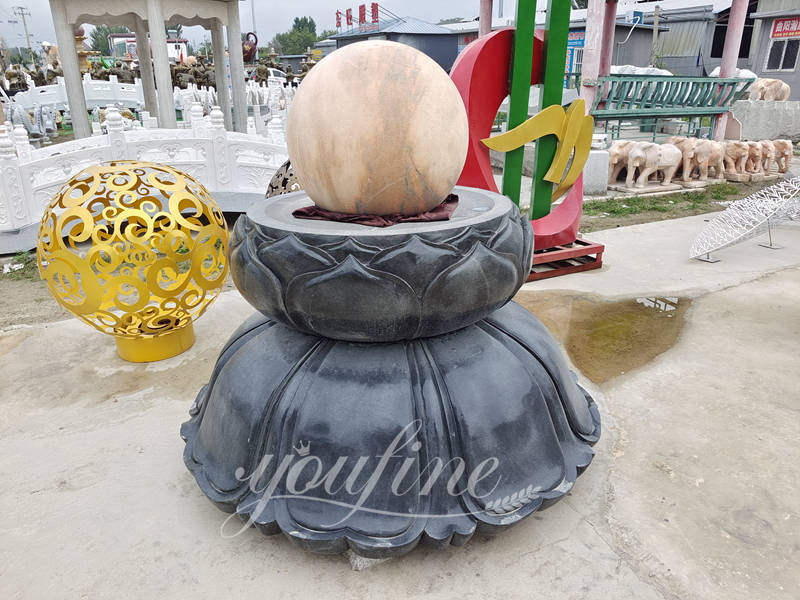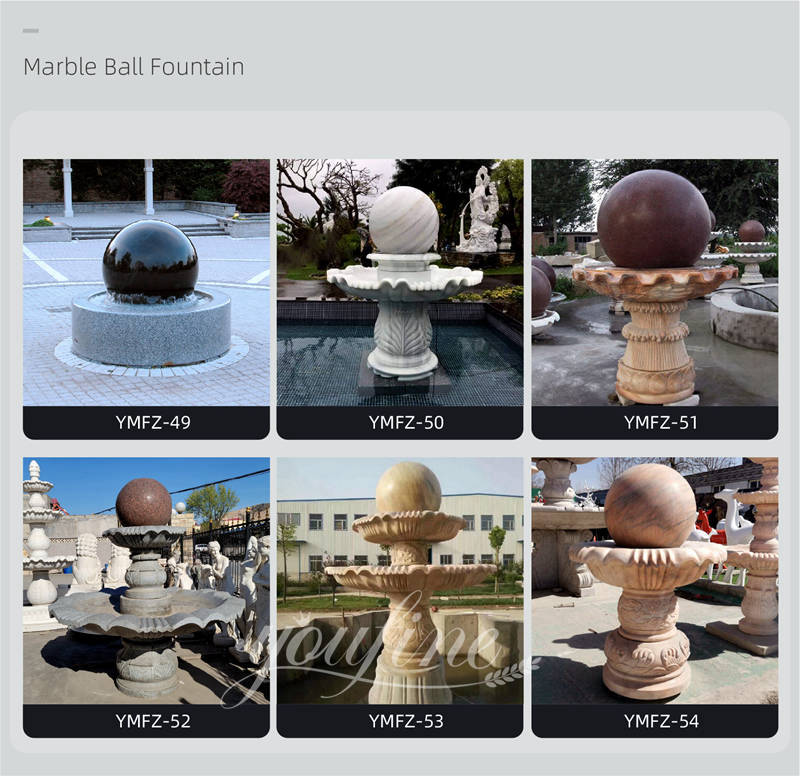 The Working Principle of the Water Ball Fountain:
The rotation of the water ball relies on the power of the water. At the base of the fountain, the water pipe leads to the bottom and then fills with water. Use a pump to pump water upwards to hit the marble balls above. The water gushing upwards has a certain pressure and speed. The impact force brought by the water pump suddenly concentrates on the concave part of the feng shui ball, and the instantaneous force would push up the stone ball and rotate according to the direction of the water flow. YouFine has been making water ball fountains for many years, and there has never been an unsuccessful installation.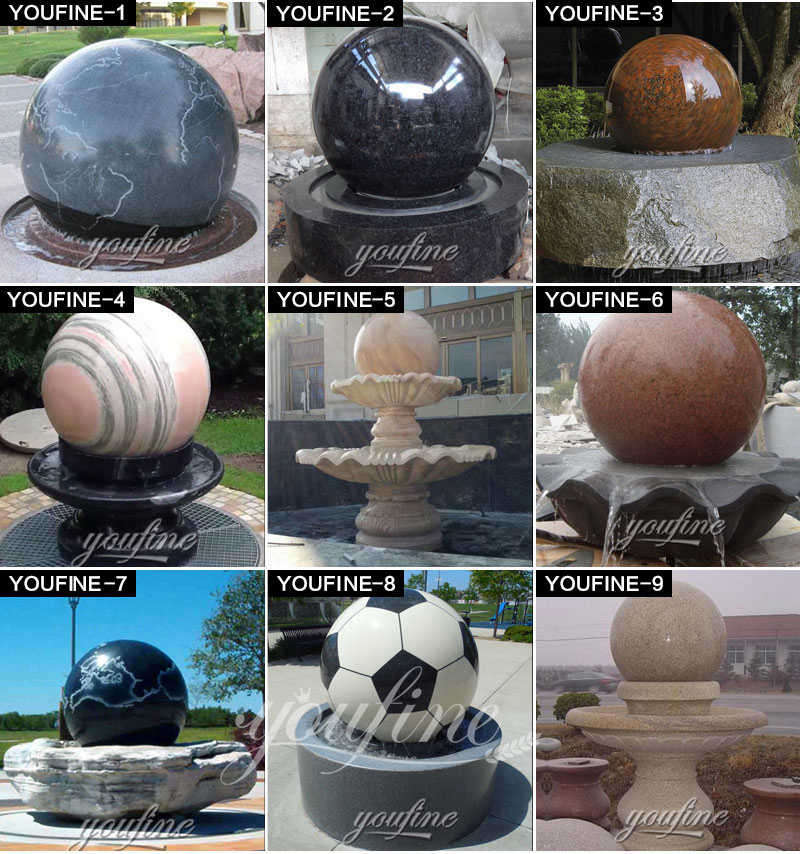 If you like this floating ball fountain or want to know more about it, please feel free to contact us for more information.
Rolling Ball Fountain Advantage
A.World Leading Fountain Designer and Manufacturer
B.First Art Quality
C.Best Wholesale Prices
D.Door-to-door Delivery
Free CAD/3D Design Service
Brochures and HD FountainPhotos
G.30-year Factory Guarantee
Excellent After-sale Service
Strong Fumigated Wooden Cases Packing
PACKAGE
Inside: Thick soft plastic foam
Outside: Strong fumigated wooden cases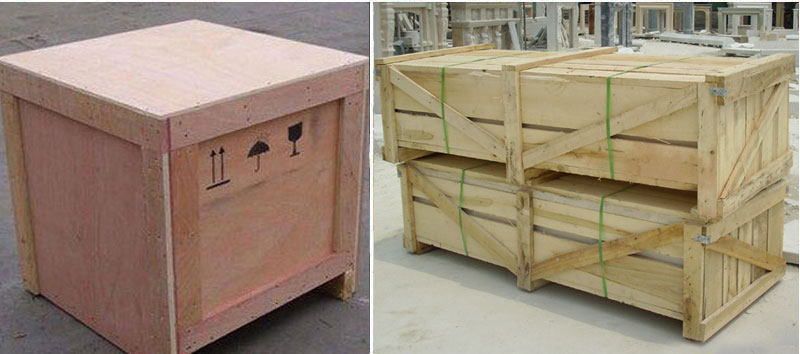 SHIPPING:
By sea:
Special for large marble water fountain, can save lots of cost.
By train/truck:
Special for Customers from Russia, Europe and other inland countries, short transportation time, also can save some cost.
Please kindly inform us! Will find best delivery way for your reference according to your orders and local situation.
GUARANTEE POLICIES
1) 30-Year Quality Guarantee:
All of our Rolling Ball Fountain have our 30-years quality guarantee, which means that if you find any problem with the Rolling Ball Fountain you purchased, you can quickly approach You Fine for the necessary solution for free. In severe cases, money will be given back in less than 7days.
2) Lowest Price Guarantee:
Our prices not arguable, this because that we are manufactures (our own foundry), not just suppliers. We make sure that we would negotiate to suit our art quality as well as our customer's budget. However, we always advice customers who insist on very cheap rate as compared to some other company's product to also consider the art standard.
Inquiry